Registration deadline – 30/12/2020!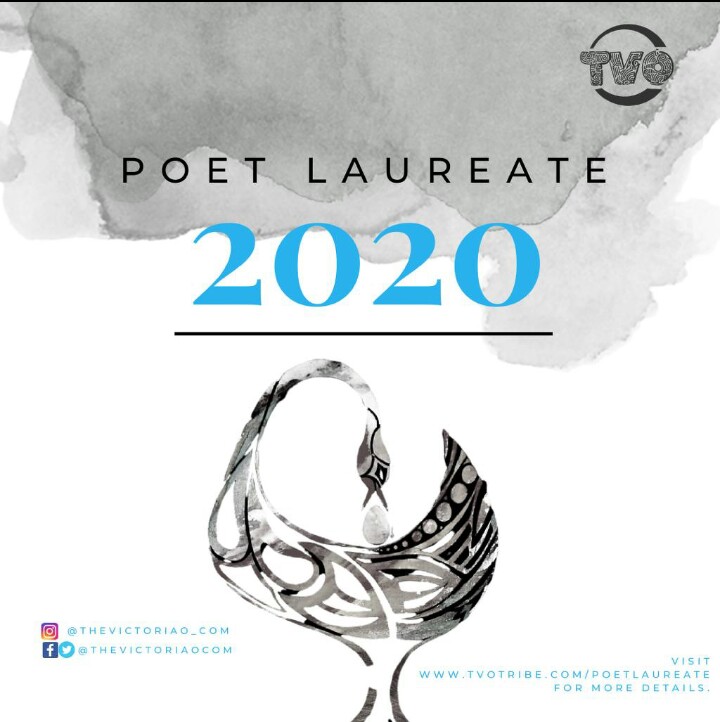 What is Poet Laureate?
Poet Laureate is an honorary position conferred by Tribesmen as an institution. After a season of featuring some amazing creatives in our community, this is a season for us to vote for the most outspoken creative. Poet Laureate is translated "The People's Poet", to bring creatives together, tribesmen by tribesmen.
Register here!
Why Sankofa?
The concept of "Sankofa" is derived from King Adinkera of the Akan people of West Africa. "Sankofa" is expressed in the Akan language as "se wo were fi na wosan kofa a yenki." Literally translated, this means "it is not taboo to go back and fetch what you forgot."
"Sankofa" teaches us that we must go back to our roots in order to move forward. That is, we should reach back and gather the best of what our past has to teach us so that we can achieve our full potential as we move forward. Whatever we have lost, forgotten, forgone, or been stripped of can be reclaimed, revived, preserved, and perpetuated.
Visually and symbolically, "Sankofa" is expressed as a mythical bird that flies forward while looking backward with an egg (symbolizing the future) in its mouth. This ties with our motto: "In order to understand our present and ensure our future, we must know our past."
The word can also be derived from the words:
SAN (return), KO (go), FA (look, seek and take).
The Sankofa symbolizes the Akan people's quest for knowledge among the Akan with the implication that the quest is based on critical examination and intelligent and patient investigation. The Akan believe the past serves as a guide for planning the future. To the Akan, it is this wisdom in learning from the past which ensures a strong future.
The Akans believe that there must be movement and new learning as time passes. As this forward march proceeds, the knowledge of the past must never be forgotten.
Our Poet Laureate
This year we have our first female Poet Laureate.
Temitope Komolafe emerged as TVOTRIBE Poet Laureate for Sankofa 2020.
2020: Temitope Komolafe; Author of "OF LOVESONGS TURN HEARTBREAKS" emerged as the winner of the 2020 Poet Laureate Prize. The first female poet laureate, Temitope, set a unique pace also emerging as the first poet laureate who would win with a prose work.
Our theme for 2020 was a Ghanaian word from the Akan tribe, 'Sankofa Yenkyi' which implies that 'it is not wrong to go back and get that which you had forgotten.'
"TVO Tribe Poet Laureate is undeniably an opportunity for African creatives to get heard, read, seen and appreciated. The Tribe's effort to compensate and endorse creativity within Africa by Africans is undoubtedly worthy of commendation. The community breeds the feeling of possibilities in all things African as it propels and proudly projects us and our craft. Our continent is a better one with TVOTribe. I therefore urge all creatives to key into the opportunities within the TVOTribe community and even when doubts arise, keep turning the pages."

– Temitope Komolafe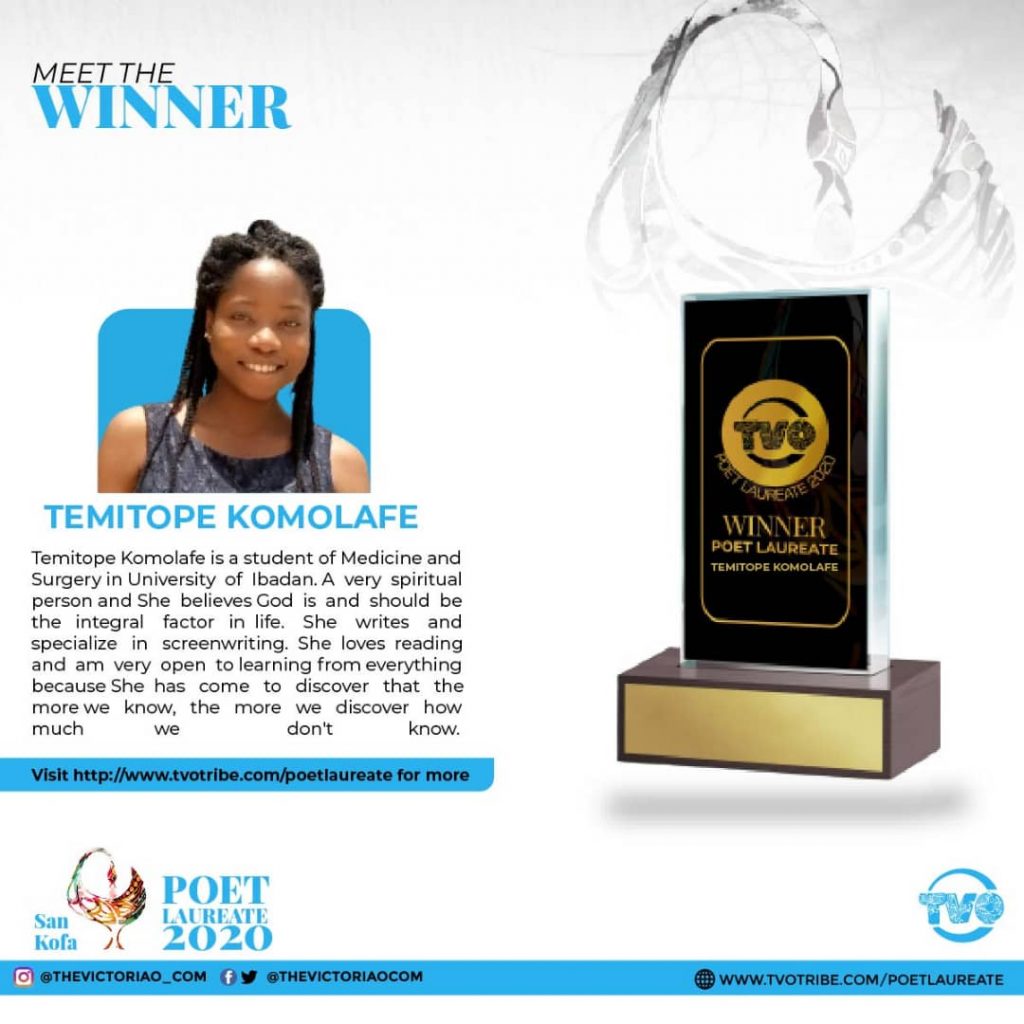 Full article on Poet Laureate 2020 here.
Udo emerged as TVOTRIBE Poet Laureate for Ukabuilu 2021. He is the fourth winner of the Poet Laureate Competition. Read about Udo here
Download Poet Laureate 2020 Anthology here
Registration Guidelines
To be eligible for this competition:
You must be a tribesman (to join, visit bit.ly/JOINTVO)
You have your entry previously unpublished.
Your entry fits the theme for this year's poet laureate (SANKOFA)
You follow the community on all social media platforms (so you don't miss out on important information).
Register here
Frequently Asked Questions
What are the categories in Poet Laureate?
There are five categories for submissions.
Prose fiction (1000 words max)
Poetry (1 poem)
Short Story (Non-Fiction) (1000 words max)
Spoken word artistry. (1 minute video)
Art & Photography. ( 3-5 pieces)
Note: Art & Photography Submissions are welcome but can't participate in the competition. We will share it on our visual platforms for appraisal. (Submit to tvotribe@gmail.com)
Also Note: Spoken word submissions can be posted on the creative's Instagram, Facebook or Twitter account, please ensure you tag us and we acknowledge receipt.
See more questions here.
Meet the winner of the December 2019 Poet Laureate Contest HERE!!!
Note: Contestants must be Tribesmen.
Good luck tribesmen; votees and voters. Also note that you cannot submit more than one entry per person, else be disqualified.
Registration is now on for the Poet Laureate. Please indicate your name and location.
Remember to work with the theme! Any poem that doesn't feature under the theme would be disqualified.
Wishing you copious amounts of luck,
The Poet Laureate team.
Our Sponsors
Our Partners
Welcome to the blog.