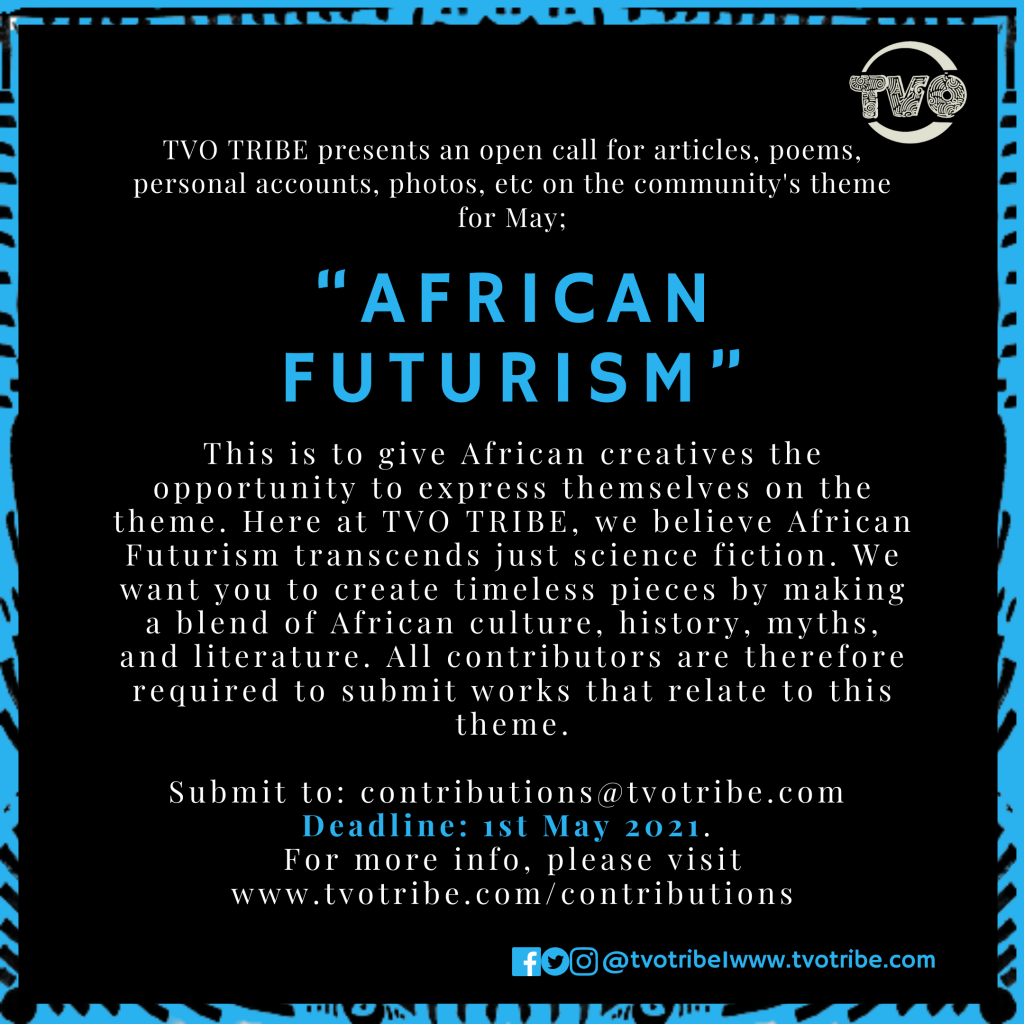 Nnedi Okorafor defines Africanfuturism as "a sub-category of science fiction that is similar to 'Afrofuturism' but more deeply rooted in African culture, history, mythology, and point-of-view as it then branches into the Black diaspora, and it does not privilege or center the West." 
Here at TVO TRIBE,
We believe Africanfuturism transcends science fiction. We want interested writers, poets, scribblers, and artists to explore what Africanfuturism specifically means to them. Do you think Africa is evolving or not? What are your projections for Africa? We want you to create timeless pieces by making a blend of African culture, history, myths, and literature. 
In the month of May,
TVO tribe will be talking about Africanfuturism. We will attempt to explore all of its mysterious depths and lay bare its many hidden layers. You are an important part of this discussion, and so we urge you to join us.
Dissect this theme with us.
Write your opinions laden with facts about Africanfuturism, express yourself artistically by making submissions relating to the theme. Write to us aesthetics, contents, and everything that lies in between. TVO TRIBE is a safe space and we are open to everyone. We accept articles, poems, personal accounts, stories, creative nonfiction, and photos that relate to the theme.
We want to read your fears, the things that please you, your beautiful writings, the ones that are stuck in your throat like a fishbone. Show us the pieces you think are deviants and the ones that conform to rules. Send us everything you have!
We encourage you to be as expressive as possible, stylistically pleasing while creating aesthetic pieces as your submission. Please check our submission guidelines for further details.
Submit to: contributions@tvotribe.com
Deadline: 1st May, 2021
For more info, please visit: www.tvotribe.com/contributions