IT'S ANNIVERSARY TIME!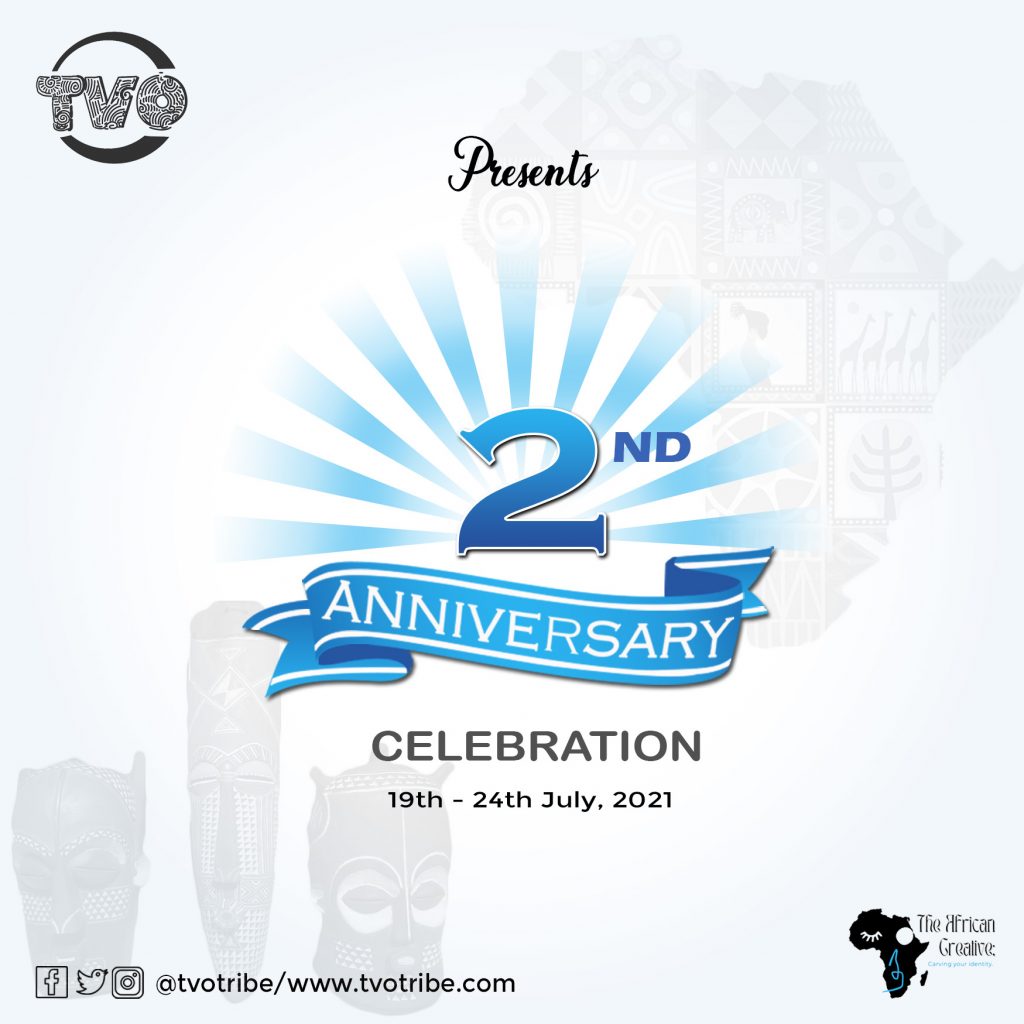 We are excited to announce yet another edition of TVOTRIBE's Anniversary, which is scheduled to hold from the 19th– the 24th of July. We are so delighted because this year's edition promises to be queer, indigenous and original.
Who we are;
TVOTRIBE is a team of dedicated and passionate Pan-African creatives, working together towards building and establishing culturally aware and appreciative youths in Africa and in the diaspora.
Through the use of African-scented and nourished write-ups and a bubbling, ever-growing community of Africanists, we are cultivating an idea that'll span across African spheres and would shape our world moving forward.
With this in mind, the TVOTRIBEVERSARY 2021 would place attention on top and emerging creatives from various creative niches, to showcase their art, tell defining stories and share unforgettable experiences.
This event would also put light on defining historical moments of the past year 2020, with mentoring and education, as its core element.
Our theme: "The African Creative; Carving Your Identity", will focus on education and mentoring, with a view to instilling African creatives, with the consciousness of who they are or who they should be.
Featured Activities include:
"The Identity Series – A DOCUMENTARY": This will feature a mix of legendary and evolving creatives. Tagged "The Identity Series", TVOTRIBEversary would be an opportunity to create a cohesion between the past and present, while securing the future. Stories and creative pieces will be collected and collated from seasoned writers with literary affiliations.
The intent is to shape a deep consciousness and connection with our audience while attracting recognition and building a platform for these creatives. The documentary would debut on YouTube and IGTV and would focus on niche and form generation, how their art has helped navigate identity waters and shaped African literature.
OPENING SUMMIT: This year's anniversary is focused on the theme "THE AFRICAN CREATIVE; CARVING YOUR IDENTITY", and would feature notable speakers, while touching on subjects close to the bane of Africanism and finding your identity as an African Creative.
Date: 23rd July 2021. Time: 5 PM WAT, 4 PM GMT. Register.
BREAKOUT SESSIONS: This would be really interesting as participants would get to have an up-close and personal experience. With topics ranging from Maneuvering storytelling in music, Dynamics of self and soul in poetry, Diversity and inclusion in Children's storytelling, and many more relevant conversations.
Featured speakers include Tega Ethan, Dr Segun Akinlolu, Hauwa Shaffi Nuhu, Victoria Olajide, Karabo Ohiine, Ayo Oyeku, Dayo Agarau, Wayne Samuel, Henneh Kweku, Johanna McCalmont and so many more. This guest list is already packed, so do not miss out on these wonderful conversations.
About Breakout Sessions (24th July 2021)
DIVERSITY AND INCLUSION IN STORYTELLING FOR CHILDREN – CHILDREN WRITERS
This session would focus on examining the various facets of diversity and inclusion, and
how they can be incorporated into educating our children. We know children are the
future, and we must focus on how to convey this concept in the simplest of terms when
applying our creativity to story-telling. Time: 3PM WAT • 2PM GMT
THE DYNAMICS OF SELF, SOUL AND ART IN POETRY – POETS
Here, guest speakers would delve into the many elements that make up the concept of
SELF, SOUL, AND ART and how best to convey them in writing beautiful poetry. Our
creative juices would be unlocked as these concepts would be deeply explored and
possibly unlock a key we never thought we possessed. Time: 2PM WAT • 1PM GMT
CARVING YOUR IDENTITY AS AN AFRICAN CREATIVE – CREATIVE WRITERS
The African Creative is one that has struggled with identity for so long. From
amalgamation, colonialism, neo-colonialism, apartheid, racism and whatnot, we have
struggled to stick to one. This class would hash out details that would help upcoming
creatives waddle through the waters of identity and a niche in art. Time: 12NOONWAT • 11AM GMT
MANEUVERING STORYTELLING IN MUSIC – MUSICIANS/SONGWRITERS
Music is the food of the soul, and we should be quite aware of its effect and impact on
the world today. Whether it's your favourite advert or an intermission in a movie, music
is always there to make it better. This session would teach creatives how to better
channel their storytelling abilities, using music as a medium. Time: 11AM WAT • 10AM GMT
TVOTRIBE
As stated earlier, we are not just a group of any kind of people, we are passionate individuals, tasked with the duty of pushing the best of Africa's Narratives and magnifying our Identity as African creatives.
Our forum for creatives is growing, and we welcome new members every day.
Join the community as a Tribesman to gain access to relevant opportunities and Afrocentric conversations (visit bit.ly/JOINTVO)
Follow us on our platforms on Twitter, Facebook, and Instagram (@tvotribe)
Finally, we can't wait to see you at the anniversary celebration.
Register for the anniversary event here.
Let's make this a date!
Leave a comment to share your excitement about this!